Enabling ntel
ntel, is the 5th Mobile Telecommunications entrant in Nigeria and they gave us a call when they needed our help with brand positioning and development.
ntel needed to win the hearts of Nigerians upon arrival so we were happy to help…but we weren't in the door yet, we still had to going through a pretty rigorous pitch process, fortunately they loved our ideas officially engaged us.
The Back Story
Entering an already saturated telecommunications market, ntel wanted to be positioned as the First Mobile 4G LTE provider in Nigeria in order to compete in a growing market, a unique proposition considering internet penetration was on a constant high. It was quite the challenge (and our biggest at the time) but a welcomed one.
The Process
In order to obtain a completely holistic view of ntel's needs, the first order of business was to have a number of sit-downs with the various in-house teams and key management members, during these meetings we did one of the things we do best – Listen. We soaked up as much as we could about ntel's vision, goals and objectives.
We were 100% plugged in to the business, attending most business meetings and some teams meetings – this was when we were able to feel their pain points and better understand their requirements. Maintaining consistent engagement gave us a deeper understanding into our research and insights, which informed the overall brand positioning strategy.
Enablement
We then went on to enhance their brand identity, we crafted the vision & mission, as well as the brand culture & speak, so they got the full works! This set the tone for the Positioning and Marketing Strategies, Web design and development, as well as the design of the physical store. We also enable ntel internally, mainly their internal processes and structure.
Once these elements were in place, we went on to develop ntel's Pre-launch, Launch & Post-launch creatives, some of which are currently online, and on billboards. At this point, our work was done. We creatively enabled the team to build and grow the brand based on the foundations we had set.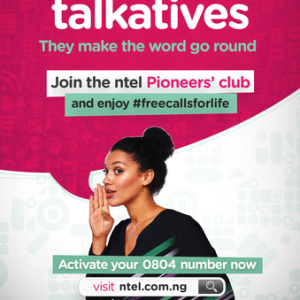 Growth
ntel launched in Lagos, Abuja & Port Harcourt with the 4G LTE and we understand that adoption has been growing gradually. User feedback on network speed has been exceedingly favourable.