Enabling Fides
As most great business stories begin, Fides was birthed by 4 friends who attended university together. After graduating they worked across a variety of legal and non-legal fields before regrouping to form Fides.
Background
Nigerian Commercial law is dominated by a small number of large firms all run by the old guard; much older lawyers who are all deeply networked. So when the Fides team engaged us in 2013, we knew we had to create a brand identity and an online presence which represented them as a 'different' type of law firm, those differences being – the relative youthfulness of the team, breadth of experience (for such young bloods) and the overall philosophy and outlook.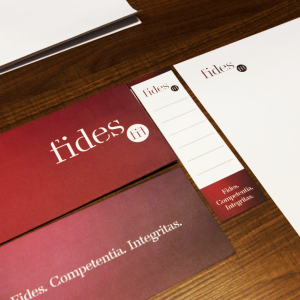 Process
At the time firm didn't even have a name, but after much discussion, brainstorming and researching and we all agreed the three qualities we all agreed the firm and must always live up to were – Trust. Competence. Integrity. We realised the commonalities among these words were rooted in Latin the language of the church, education and of course LAW. So eventually developed the name Fides!
Thereafter we spent a good 3 months working collaboratively with the Fides team on this extensive branding project.
The Latin brand name also influenced the font development which was carefully styled to hearken back to traditional Serif fonts. We flipped the 'F' in the ident to recreate the Balance and a Sword as exemplified by Lady Justice.
Fides connected our team with their Interior Designer and we helped keep the look and feel they were trying to achieve on-brand, which helped shaped their overall office area into a very cool space.
Next, we created the website and began working on the initial electronic marketing correspondence for potential new clients.
Enablement & Growth
Enabling the Fides team in understanding the process was an initial challenge however, we found as we walked the team through the journey, explaining the why's and how's along the way, it was an education and we could tell they appreciated it.
From the naming of the organisation to building the website and visual identity, as well as working closely on the interior design and branding of the space, this was a wide-ranging project where we produced and rolled-out some truly classic and meaningful brand identity work, which the Firm is still using to present day.